Magneto Flywheel Removal
Author: Ric
April 22, 2010 1:55 PM
Here are the items needed for removing the magneto flywheel. One 15/16" 1/2" drive deep socket, or 24mm 1/2" drive deep socket, One automotive harmonic balancer puller or a steering wheel puller, three 8mm x 120mm x 1.25 pitch bolts, three 8mm x 16mm x 1.25 pitch bolts and a fabricated flywheel holder.
Here is a picture of one: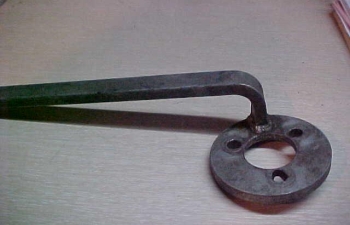 It's made of 1/4" thick steel, inside of the doughnut shape is 1 1/4" dia., the outside is 3" dia., the handle need to raise above the doughnut 1 1/4" before bending 90 degrees, the handle is 10" long, drill 3 3/8" holes that match the hole in the flywheel.
Use the three 8x16mm bolts to bolt the flywheel holder to the flywheel, use the 15/16" or 24mm deep socket to remove the flywheel nut, use the harmonic or steering wheel puller and the three 8mm x 120mm bolts to remove the flywheel.
September 20, 2012 11:41 PM
online payday
September 20, 2012 10:15 PM
viagra order uk
September 20, 2012 2:08 AM
order viagra online
July 28, 2012 5:48 AM
Tori
Also try cleaning the Mass Airflow Sensor. My 87 CX suffers occasional random stalls when slowing down for a stop. Removing, cleaning, and re-installing the MAF fixes it for about a year. It's a good idea to clean the MAF every time you change/clean the air filter.There's also a water temperature sensor that feeds the engine temp to the computer (not the sensor that feeds the digital gauges.) It's located next to the very last injector (right of car). I suspect mine was causing the car to run very poorly and quit on hot days/hard use, so I replaced it. Now I'm just waiting for a good hot day, and a long highway trip to make sure I got it.
car insurance
cialis
July 10, 2012 2:28 AM
wrtdrf
Add a comment